EdTech
The future of education is important to me. I managed a children's Maker-Space and co-founded 'Out of the Box', a tech consultancy for schools
// Inspired by the work of Papert and his constructionism theory, I believe that through experiential learning children develop meaningful personal experiences that lead to intrinsic motivation and passion for learning.
// Out of The Box was a venture with the goal of improving education bottom-up. The age-old teacher role is shifting from lecturer to facilitator as knowledge and data become easily accessible. To help teachers adapt, we empowered them to act as mentors who support and manage project-based learning and independent discovery.
// Before working together, we collaborated as Edtech PMs at the Media Innovation Lab in Herzliya. We designed physical-digital outdoor games, maker-spaces, children's smart home construction kits, parent-child co-making activities, and the 'Maker' mindset.
Out of the Box Co-Founders: Tom Hitron, Ofir Sadka, Rona Sadan, Aviv Sheriff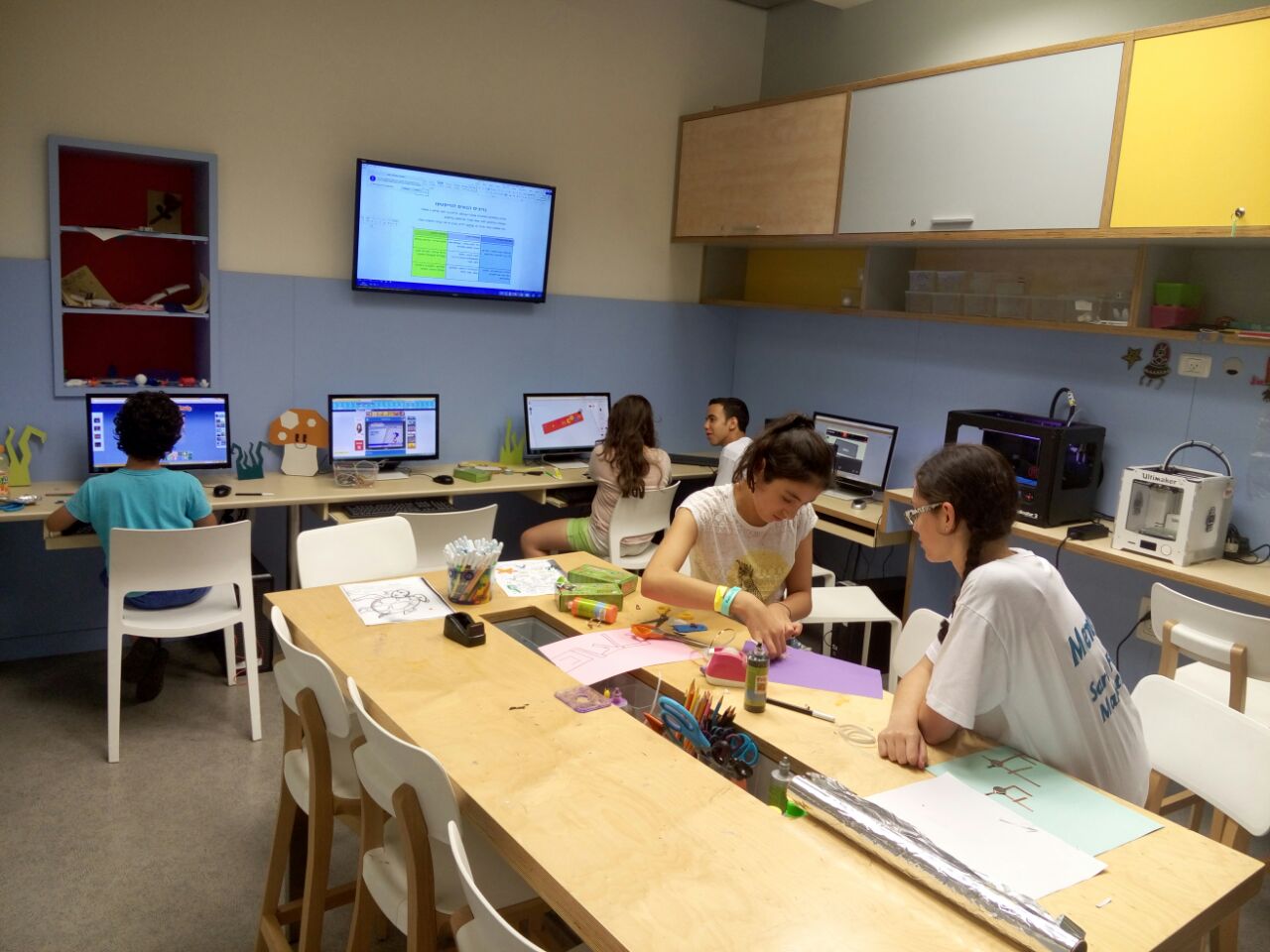 // The Maketec is a drop-in maker-space in a public library in Tel-Aviv, where teenage volunteers mentor children in digital fabrication. I helped train the volunteers on research-based "scaffolding" methods, to support the children's exploration and learning.
// Computer-aided-design tools such as 3-D design and printers are require spatial and visual imagination. Computed-Aided Design (CAD) presents learning opportunities in the inevitable failure - when the model doesn't print as the child imagined it. This leads to a productive troubleshooting process, in which personal mentoring helps to reflect and learn from mistakes. This example is a the final result of such a process - a 3-D designed catapult with a circular hinge.
// With "paper circuits" kits, children explore the intricacies of electric circuits, electrical polarity in batteries, and LEDs. At the Maketec, we designed projects to be meaningful to children, such as floating personal lamps attached to helium baloons and interactive snakes and ladders games that flick on lights as you move the pieces.
// The "Makey-Makey" kits developed at MIT Media Lab allow children to control the computer with any electro-conductive object (e.g. pencil graphite). More than a tool for learning about electro-conductivity, Makey Makey is an exercise in creativity, as children are encouraged to discover new objects to be used as controllers.
// Entry-level robotics kits like "Hummingbird" allow children to experientially learn concepts of Computational Thinking (CT), through their own creative and meaningful projects. In this example, a team of children built a garbage collecting robot that operates on two wheels, programmed through Scratch.